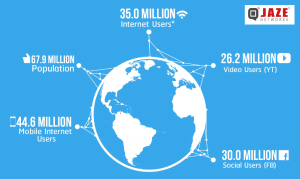 Social media usage is on the rise all around the world, but is 58 percent away from saturation. Social media hasn't maxed out its potential audience, and people will keep on converting along with the growth of smartphone ownership and Internet access.
In the future, innovative devices and services will require faster connection speeds and more data. This means broadband networks must keep pace as consumer demands change. Most social networks today offer direct peering to ISPs where they can connect for free or minimal charges. ISPs can then provide services with lesser latency and bandwidth costs to end customers.
Jaze ISP Management solution enables Internet Service Providers (ISPs) to ensure the best quality of service for broadband customer with custom peering and traffic shaping policies.