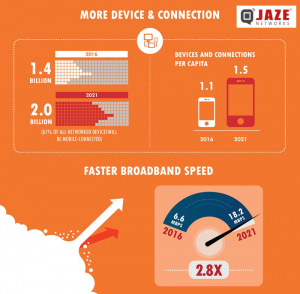 By 2021, there will be 2 billion mobile Internet users, representing about 70 percent of the global population. The present 4G average speed will get doubled by 2021 per connected device. Nearly 70% of the smartphone users are accessing the social media through their mobiles. The explosion of mobile applications and the expanded reach of mobile connectivity to a growing number of end users has prompted the need for optimized bandwidth management. Internet speeds are getting more important as internet connectivity becomes more integral to daily life and to the overall economy.
Internet service providers globally are busy rolling out 4G networks to help them meet the growing end-user demand for more bandwidth, higher security, and faster connectivity on the move.
Jaze ISP management solution enables Internet Service Providers (ISPs) to scale out and manage growing subscriber bases centrally and provide managed QoS with optimum bandwidth allocation for building highly scalable networks.