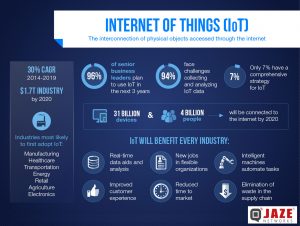 The infographic below shows the statistics of IoT growth over the past few years. Industries which are more likely to adopt IoT in the coming future are Manufacturing, Telecommunication, Electronics, Healthcare, Transportation, Retail and Agriculture. Most of the Industry leaders are planning to incorporate IoT in next few years to make processes more efficient. With 31 billion connected devices the market for IoT is growing at a rapid pace of more than 30% yearly. Already 4 billion people have at least one connected devices and we can easily see more people getting additional devices connecting to the Internet.
IoT will benefit all industries with Real-time analysis of processes, automation of tasks, improved customer experience and many other benefits. IPv6 adoption by ISPs will provide a major role to support IoT devices on their networks.
Jaze ISP manager enables Internet service providers (ISPs) to deliver fully managed IPv6 services with Prefix Delegation and IPv6 address space management needed for next generation of IoT services.