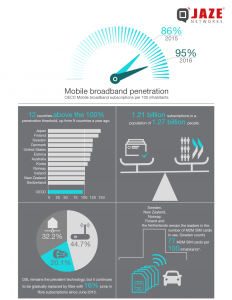 The infographic below shows how mobile broadband Internet connections are increasing all over the world. Almost every person in the world is having a mobile device and with every mobile device internet connection is almost a mandatory requirement. Nowadays every home has a broadband connection and has a minimum two mobile devices per household. Japan stands in the first place in mobile broadband penetration where as New Zealand, Switzerland and Iceland stands lower down on the number connections. DSL is the major connection type used for broadband penetration and now DSL is slowly replacing by Fiber connections.
ISPs should ensure their networks scale to cope with increasing demand and integrate with all the new delivery technologies to provide cost effective growth.
Jaze ISP Manager integrates with all leading BRAS routers to shape traffic efficiently through RADIUS based policies to help reduce ISP costs and provide better quality of service and support for IPv6 to drive next generation services.