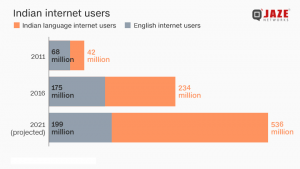 India has dozens of regional languages, and many of the country's newest mobile users are discovering the Internet in one of them. India already has 234 million local language Internet users. That number is expected to soar to 536 million by 2021.
One of the major reasons the Smartphone hasn't been able to penetrate rural or smaller cities is because it's all in English. Hence we need to focus on investing for putting regional languages in their Smartphones for greater patronage.
Likewise all applications need to be available in multiple regional language options in order to cater to a wider audience.
Jaze ISP Manager provides software in multiple languages to enable ease of use by even non-English speaking customers.