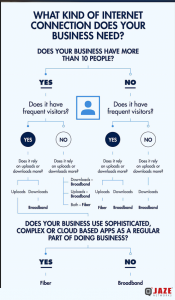 The infographic below shows you how to decide the right type of Internet connection for your business. Internet connectivity plays an most important role in every business and gives you access to the tools to collaborate with your team and run your business effectively. A high-speed connection is necessary for businesses and organizations like healthcare and government sectors and certain industries more than other need a super-fast connection to share key information at the right time.
The number of user devices connecting, upload to download usage ratios and usage of cloud based applications determine which type of Internet is right for you. ISPs provide leased line services and broadband on fiber, copper and wireless media. Each type of connection is different and a thorough analysis needs to be made to get the right connection for your business.
Jaze Networks provides Jaze ISP Management solutions for broadband providers and leased line services with end-to-end management including lead management, subscriber management, billing and payment management, helpdesk and much more to help ISPs manage their business effectively.