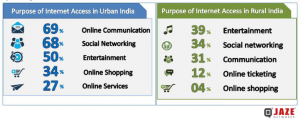 The number of Internet users is growing in rural India compared to the previous years but the difference between internet users in urban India is huge. Online communication remained the top activity among urban India Internet users whereas in rural India, entertainment is observed to be the most common purpose for accessing the Internet. Internet service centers should be developed in rural areas and also provide high speed Internet transmission lines without any disturbances.
ISPs have to focus on providing a consistent and high quality service to its customers in both urban and rural areas due to the increasing potential of the Internet users and connected devices.
Jaze ISP Manager helps manage ISP operations across multiple locations with integration with multiple network equipment vendors, payment gateways and accounting systems.