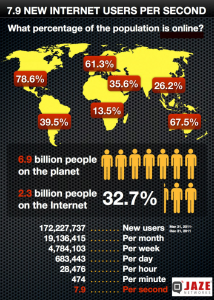 The map shows the share of the population that is accessing the Internet across all countries of the world. Over 1.1 billion new internet users will be connected, rising from 3.0 billion in 2015 to 4.1 billion in 2020. So where are all of these new internet users connecting?
The majority of new internet user growth will occur in low and middle-income countries in Asia where nearly 700 million new internet users will connect. This growth is primarily driven by India and China, where over 276 million and over 238 million users, respectively, will connect.
Fiber optic driven broadband and 4G connectivity are major drivers for Internet penetration. ISPs need to provide competitive plans at attractive prices to cater to this demand.
Jaze ISP Manager helps manage ISP operations across multiple locations with integration with multiple network equipment vendors, payment gateways and accounting systems.