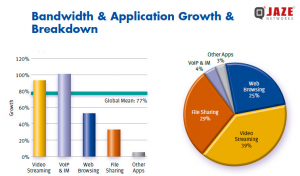 Bandwidth usage has continued its steady rise with 77% growth with video streaming continuing to show significant growth with a 93% increase, and remains the single largest application taking up bandwidth, accounting for 39% of bandwidth. YouTube remains the single most popular mobile Internet destination, accounting for 22% of bandwidth usage and 52% of total video streaming.
Is your ISP business designed to scale and handle the increasing Internet usage of your customers? Are you peering with the right content providers to reduce your transit costs?
Jaze ISP manager enables to provides DSCP based QoS in order to shape traffic according to your upstream peering links in order to make best use of your bandwidth pipes.