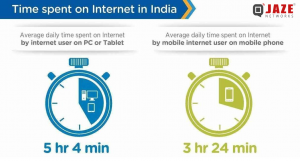 This infographic shows with the growing influence and interference of the internet in daily life, people in India are spending 5 hr 4 min on an average on the internet through PC or tablet. Comparatively, people are spending less time on the internet through mobile devices.
These findings clearly indicate that the obsession with the internet is increasing in people's daily lives. The Internet users are classified into the following segments: active aspirers, professional pros, social shoppers, entertainment enthusiasts, novel networkers, late learners and data discoverers.
ISPs have to make their network works as quickly and as efficiently as possible.
Jaze ISP Manager enables Internet Service Providers(ISPs) to manage your peering and Internet policies for efficient bandwidth delivery.