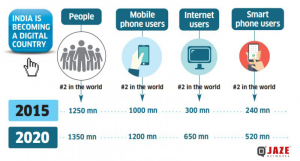 This statistic provides information on the number of internet users in India from 2015 to 2020. Due to fast adoption of digital technology, it is expected that number of internet users will increase in the country. The increase in the number of internet users will result in a large increase in the amount of digital commerce that the country will see. Despite the untapped potential, India already is the second-largest online market worldwide. 
ISPs should ensure their networks scale to cope with increasing demand and integrate with all the new delivery technologies to provide cost effective growth.
Jaze ISP Manger Integrates with multiple NAS routers and enables the ISPs to centrally manage their end-to-end operations of their entire business.