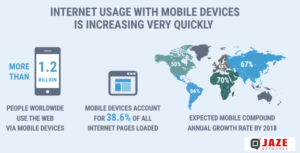 The Internet plays an important role in every aspect of human life. Its usage is extended to numerous fields, including education, healthcare, business, and much more. Individuals may access the Internet through numerous devices like desktops, tablets, smartphones, among others. However, the number of individuals accessing the Internet through their smartphones is increasing rapidly. The usage of mobile internet is increasing day by day.
ISPs should ensure their networks scale to cope with increasing demand and integrate with all the new delivery technologies to provide cost effective growth.
Jaze ISP manger helps you shape traffic efficiently through RADIUS based policies to help reduce your ISP costs and provide better quality of service and browsing experience to subscribers.