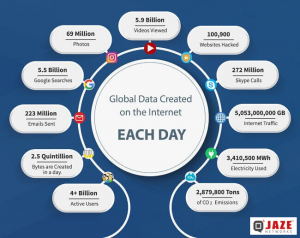 The infographic below shows the amount of data we create on the Internet each day. There are more than 4 billion active people who are using Internet every day and 223 million emails sent and 5.5 billion people searching on Google. People are uploading millions of photos and videos on social media websites and more than 5 million GB of data is created for Internet traffic. The Internet has become a basic necessity for all the people and consumption of data is on the constant upward curve.
With these statistics it is clear that the need for Internet bandwidth is going to increase in the future with more and more data being consumed and generated. ISPs need to monitor data usage to shape traffic policies and data limits on their Internet plans.
Jaze ISP Manager provides detailed usage reports and analytics of data usage to help you design the right Internet plans for your customers.