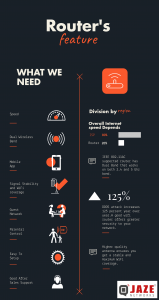 Purchasing enterprise routers for ISPs and enterprise routers requires a great deal of planning to identify the set of features requires and the throughput requirements to decide upon the right model and interfaces. When it comes to home routers, it is usually just purchased online or off the shelf without much thought. Are all routers the same or would they differ in performance? The Infographic below shows what kind of features we need in home router to get a better broadband experience with more speed and better stability. A Router really plays a significant role in your home network and so it has to be chosen carefully. Any router will share your Internet connection amongst your computers and other networkable devices (Smartphone's, tablets, and so on), but better models provide features that will enhance your network and its performance.
The features which need to be in your home router and should preferably be offered by the ISPs are Gigabit Internet ports, atleast Dual band wireless with 802.11ac, Signal stability and Wi-Fi coverage with beam forming technologies, Guest Network, Parental control, Easy to setup wizard and good after sales support. As shown in the Infographic 80% of the Internet you get is dependent on ISPs and 20% depends on what type of router you choose.
All of these provide an opportunity for Internet service providers to customize their Internet offerings and provide Wi-Fi routers or ONU devices with Wi-Fi access bundled with the Internet plan to ensure the best quality of Wi-Fi network and premium experience to end-users.
Jaze Networks enables ISPs to monitor OLTs and CPEs on their network from a single dashboard to provide complete visibility for better troubleshooting and providing better service to their subscribers.