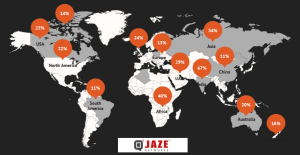 There was an estimate of 3.5 billion internet users worldwide. This means about 45 percent of the global population accessed the internet. The majority of global internet users are located in East and South Asia, while China is the largest online market in the world. In 2016, China had over 721 million internet users, more than double the amount of third-ranked U.S. with nearly 290 million internet users. India ranked second in number of users; Brazil and Japan complete the top 5.
The major portion of the Internet users in India are mobile subscribers with 4G connections. Availability of cheaper data rates combined with ubiquitous availability has made 4G very popular recently.
Jaze ISP Manager helps manage ISP operations across multiple locations with integration with multiple network equipment vendors, payment gateways and accounting systems.