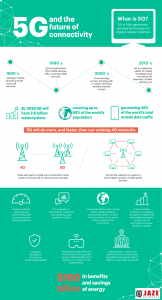 The infographic below depicts 5G and the future of connectivity. As 5G technologies have been continuously evolving and it is going to change the way we spend our lives and our communication in the coming future. Compared with the past generations of mobile Internet, 5G will be faster beyond our expectations than our existing 4G networks. The statistics say that there will be nearly 2.6 billion 5G subscriptions and will cover nearly 65% of the world's population, thereby transmitting much of the Internet traffic through mobile data networks. Some benefits of 5G include higher upload and download speeds with reduced latency for real-time communication. Low power IoT devices will proliferate industries like transportation and IT, collecting and analyzing huge data and creates more opportunities in VR and AI and many more.
All this benefits of 5G also come with challenges. Cities need to install more transmitters than usual to have better connectivity and to experience higher speeds with multiple connected devices at the same time.
Broadband players will also need to step up their game by offering competitive services with better quality of service to compete with 5G network operators and retain their existing subscriber base. How will the broadband market adapt with the roll-out of 5G is still a big question for which we will only need to wait and watch. Retaining existing customer base by broadband operators while reducing churn by providing better services in a cost effective manner will be the key.
Jaze ISP Management solution enables ISPs to ensure the best quality of service for broadband customer and to centrally manage end-to-end operations for their business.