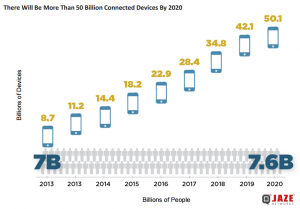 The number of Internet users will increase to 60% (4.8 billion) of the global population by 2020, with 50 billion devices and connections expected to be online. The Index predicts that by 2020, more Internet traffic will be created than in the 32 years since the Internet was introduced. The IPv6 protocol can handle packets more efficiently, improve performance and increase security. It enables internet service providers to reduce the size of their routing tables by making them more hierarchical.
IPv6 will be one of the core capabilities required to handle the growth of connected devices. Is your network IPv6 enabled yet?
Jaze ISP Manager provides IPv6 support to seamlessly support next generation applications on your networks.